David Schlosberg, CPCU, CIC, API, AINS, Vice President at Gunn-Mowery, LLC, was chosen as a 2018 Forty Under 40 Award Recipient by the Central Penn Business Journal.  
David's career in sales first took him to Enterprise Car Sales where he was the number one producer in Central Pennsylvania in 2008 and 2009. David decided to start a new career path and joined the Gunn-Mowery team in 2010 as a Sales Executive. His first year at Gunn-Mowery, David grew his book of business by 552%. Recently, David was promoted to Vice President with a major management role. He is now in charge of our entire Personal Lines department, as well as our small Commercial department. He oversees 17 employees, with budget and personnel responsibilities.
Not only has David been a leading salesperson for Gunn-Mowery, but he has led by example with respect to education. In his 8 years at Gunn-Mowery, he has obtained the two most prestigious degrees in the Property & Casualty industry: CPCU and CIC. CPCU stands for Chartered Property & Casualty Underwriter and there are only 65,000 CPCUs in the world, a tiny fraction of the estimated one and a half million employees in the property & casualty industry. In order to obtain this designation, you must pass eight college and graduate level exams based on course materials created by The Institutes. It takes most designees more than 4 years to complete their coursework, however David completed it in half of that time. Oh and did we mention he has 2 children under the age of 5? The CPCU designation can be comparable to the CPA or a medical board certification. CIC stands for Certified Insurance Counselor and David obtained this degree in one year. CIC is one of the most advanced, highly recognized professional education designation programs in the insurance industry. To top it off, he also has received his API (Associate in Personal Insurance) and AINS (Associate in Genearl Insurance) designations as well.
David is a proven leader, not just at Gunn-Mowery, but throughout the community. He has served on the Board of the Pennsylvania National Horse Show for the past 6 years and was recently appointed to serve on the Executive Board. Each year, the Horse Show gives around $30,000 to non-profit horse rescues, therapeutic riding programs and more. He is very involved in the Associated Builders and Contractors Keystone Chapter and helped the Young Professionals Group go from a task force to a full fledged committee within the organization. While serving as the Chair of the Young Professional Committee, he was instrumental in organizing a day with Habitat for Humanity, as well as dedicating over 30 hours to fixing up a second chance home for women and children in Lancaster.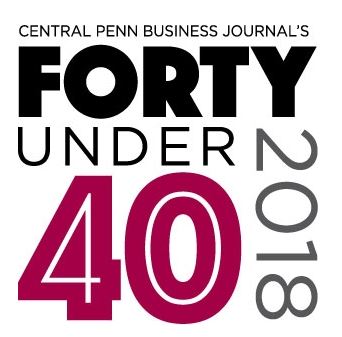 David also organized two Bowl-A-Thon's. The first raised $6,500 for Leg Up Farm in York, PA and the second raised $5,500 for Kids Chance of PA. Every year, David helped put on the ABC Construction Rodeo, which is an event to raise awareness for careers in construction. He served as co-chair of the Ryan M. Hale Memorial Scholarship fund for 10 years. Over that time, they raised approximately $30,000 to award current students in the form of scholarships. In 2012, David graduated from Leadership Harrisburg, where he dedicated a 8 months to the Tri-County Association of the Blind by helping them re-brand themselves into their current name of Vision Resources.
As a Forty Under 40 Award Recipient, he will be featured at an event on Tuesday, October 9 at the Hilton Harrisburg from 6:00-9:00 PM. He will also be featured in a special publication distributed with the October 12 edition of the Central Penn Business Journal.